Total Immersion®
Achieve your goals quickly
The most intensive and effective form of language learning. You are immediately immersed in the language and achieve maximum results within the shortest possible time.
The Berlitz Method® is renowned for its immersion teaching technique, and our Total Immersion® course takes that principle to the next level. It consists of one-on-one instruction with a Berlitz trainer in 12 daily lessons for up to six weeks. A qualified native speaker trainer helps you face any inhibitions you may have, keeping you speaking at least 50% of the time. If you are looking for intensive language solutions, then the Total Immersion® course is your best choice.
Your Benefits At A Glance
60 lessons per week, full-time
Business lunch included
Available for all language levels
Fast, effective learning of your desired language
Individual duration: 1 to 6 weeks
Targeted to your personal and professional needs
The Total Immersion® course helps you improve language level and achieve your linguistic objectives in record time. Whether you opt for a one-week course, a six-week course, or something in between, you are guaranteed the accomplishment of your learning goals. The course content is customized to suit your specific needs. Berlitz trainers can call upon an extensive selection of materials from a wide variety of industries and areas of interest. You gain knowledge you can use in your daily life, increasing your confidence when using the language in any situation.
The Total Immersion® course is ideal for learners who need to improve their level of proficiency and gain a solid foundation in a new language quickly.
Course Content
The direct route to your language goal
In this course, everything revolves around you: You define the time, place and duration of this one-to-one course. We do everything to ensure you learn your desired language as fast as possible – whatever your prior knowledge. Our native-speaker instructors structure the course in a varied and effective way – using your favorite topics and/or your professional field. We break down inhibitions and motivate you to speak actively at least 50% of the time. Your success is guaranteed.
Together with us, course content will be defined and suitable course material** selected.
**Where applicable, required course materials will be charged extra at the Berlitz center.
Schedule
Monday 08:00 – 17:00
Tuesday 08:00 – 17:00
Wednesday 08:00 – 17:00
Thursday 08:00 – 17:00
Friday 08:00 – 17:00
Precognition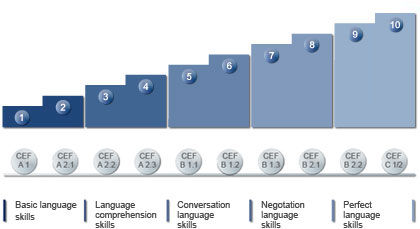 It's possible to join your language course at any Berlitz/CEF level.
Additional level information
Language Goal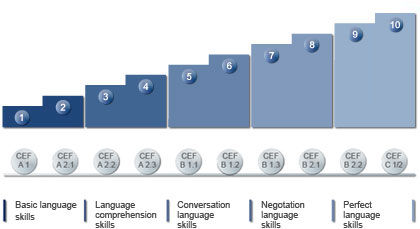 After a personal assessment in your local language center, we will discuss how you would like to use your chosen language. Based on this, we'll define together your personal language goal. Here we'll consider the number of lessons required, and will define the lesson plan together with you.
Additional level information