GENERAL CONCEPT
"LEARNING BY SPEAKING"
The learning techniques implemented at the international camps differ from those used in typical school lessons. Standard school classes mostly follow a general pattern of teaching new material with the aid of vocabulary and grammar. This is often done in the shortest possible time, and many students are not confident enough to speak spontaneously in the foreign language they are acquiring.
Berlitz International Camps focus on "Learning by Speaking." At the camps, the students learn to use the foreign language naturally, correctly and intuitively. Our aim is for them to use the speaking skills that they already have by actively joining in the activities. This means that they practice how to choose the right verb tense, vocabulary and sentence structure to fit each situation.
THE CONCEPT BEHIND OUR LANGUAGE COURSES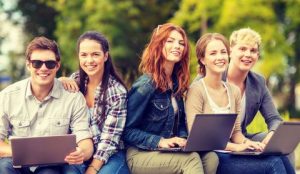 Study at one of several locations in the USA, Australia, Canada and more
Students are divided into homogeneous learning groups at the beginning of the camp according to language skills
Instruction in small groups from 8 to 12 students
Four 45-minute lessons per day with qualified language instructors
Excellent teaching methods, including interviews, role plays, presentations and topic-related projects
All participants receive a Berlitz Certificate at the end of the camp
OUR TEACHERS
Without exception all our instructors are native-speakers of the target language. They come from a wide variety of countries around the world and can bring a bit of their own exciting cultures into camp with them. They are all experienced and enjoy the rewards of working with children and young people. The team is available to work with the camp participants throughout the day teaching, organizing the afternoon and evening activities and putting their ideas into practice with the camp participants.
Each camp has a Camp Director who has overall responsibility and can speak to the children in their own language if need be.