GIVE YOUR CHILD A HEAD START WITH ENGAGING AND IMAGINATIVE ACTIVITIES
THE MIMI & ME COURSES MAKE LEARNING ENGLISH A PIECE OF CAKE
Children have a natural gift for acquiring languages. That is why the Mimi & Me program is a unique learning opportunity for children ages 4 through 7. Based on the famous Berlitz Method® and the most recent pedagogical research, Mimi & Me helps children learn how to speak and interact naturally in English. Give your children a head start for school and in their life. At Mimi & Me class time is like playtime with friends, even though your child is learning the most.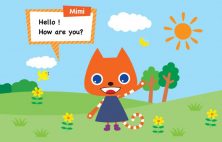 CHILD-APPROPRIATE LEARNING
Learning through exciting stories, games, songs and playful activities
Focusing on conversation with positive reinforcement
Building up of confidence to speak and interact in English
Immersing in the language through the Berlitz Method®
Activates the natural ability of your children to learn languages
A HEAD START IN SCHOOL
When it comes to learning a new language, Berlitz believes that the best method is to immerse yourself as completely as possible. Berlitz trainers at Mimi & Me use fun, creative stories, songs and games to activate your child's imagination, teaching your young ones how to speak English every step of the way. Early exposure to language learning reduces uncertainty in conversation and prepares your child to succeed in school and life.
The constant immersion in the target language means your child will grasp the language easily and will develop a better understanding of different cultures. What's more, Berlitz trainers can modify course content as lessons progress, ensuring use of materials and content that is best suited to bring out your child's inner linguist.
A METHOD THAT WORKS
With Berlitz, you and your child receive constant support, with a comprehensive network of classroom resources. The program is a blast for every child involved, and as a parent you will be impressed by how far your child comes with the language in a short amount of time.
Contact your local Berlitz center today to give your child an opportunity to last a lifetime.