TELEPHONE INSTRUCTION
LEARNING A NEW LANGUAGE HAS NEVER BEEN EASIER
Our telephone course gives you the opportunity to have lessons with a private trainer no matter where you are in the world. All you have to do is reserve your lesson, inform us of your location and answer the phone, making this a highly flexible and valuable option for busy professionals. An online platform allows you to schedule or cancel your appointments at your convenience. Working with a native Berlitz trainer towards the goals you have defined guarantees that you will see vast improvements in your fluency in no time.
BENEFITS OF OUR TELEPHONE COURSES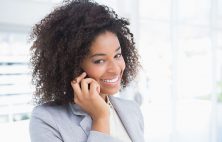 Easy course management via an innovative online platform
An off-shore team of 650 qualified native speaker instructors
Courses available 24/7, from anywhere in the world
Possibility to work on your own personal materials during a lesson
A FULLY FLEXIBLE COURSE DESIGNED AROUND YOU
Berlitz designs the course materials around your personal and professional goals, using content that is relevant to your specific industry and language objectives. Each lesson, your trainer will immerse you in the target language, helping you gain the confidence you need to speak the language in real-life situations. The main goal of the Telephone Instruction courses is to keep you highly motivated by the personal attention of a language trainer, the relevance of content and the ease-of-use. The method ensures rapid results whatever your level of proficiency.
The Telephone Instruction gives trainees total flexibility of time, place and lesson content. They learn at their pace and are motivated by their quick progress in the new language. Contact one of our consultants to obtain more information about our distance-learning solutions.
AVAILABLE FOR 5 TARGET LANGUAGES:
 English  
 German  
 Spanish   
 French   
 Italian